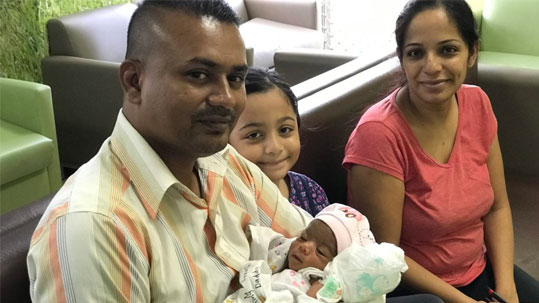 18 Jun

The Strength of a Family: The Kumar Family

In early June, after a week of giving birth to her second daughter, Preetika Seth had to rush baby Jayleen to the Colonial War Memorial hospital after some complications.

It was discovered that baby Jayleen had meningitis and had to be treated in hospital. She had to be put on antibiotics for a little over two weeks.

The time spent in hospital was quite tough on Preetika and sometimes depressing. She also had a seven year old daughter whom she was missing and could not see as children were not allowed in the wards.

After a few days of being in hospital, they were able to reunite.

'I am so thankful for the Ronald McDonald Family Room as we were able to catch up and it was just so good to be able to hold my older daughter again and for her to see her baby sister,' says Preetika.

'I was happy to see my wife relaxed each time we came to meet her at the Family Room. This was a place we could enjoy each other's company and in a peaceful and homely environment,' adds Jay Kumar.

'I'm glad we're going home and so grateful to Ronald McDonald House Charities for all that they do in helping us parents and families going through a stressful time.'

After spending 18 days in hospital, baby Jayleen Kumar was discharged and was three weeks and five days old.